RFS04C 4CH SBUS Dual Antenna Receiver Module Compatible : Futaba S_FHSS / TM-FH RF
不能存图片
Receiver RFS04C 4CH SBUS Dual Antenna Receiver Module Compatible : Futaba S_FHSS / TM-FH RF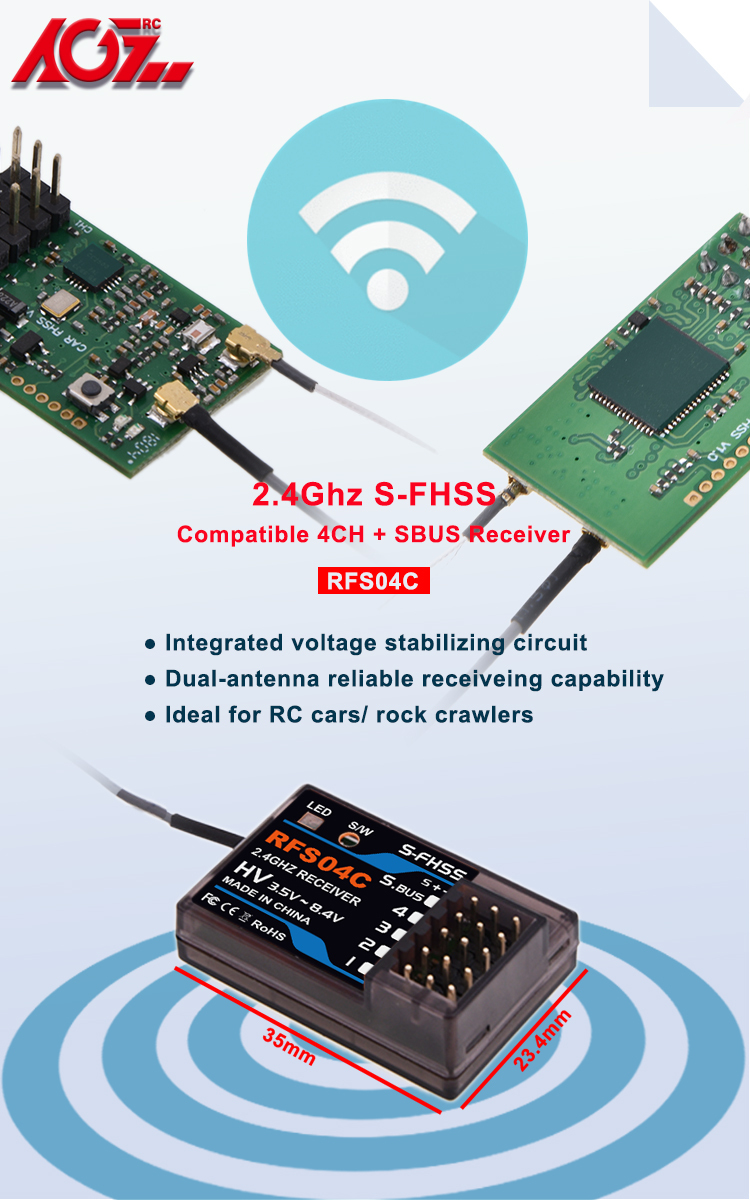 Compatibility
Compatible : Futaba S_FHSS / TM-FH RF Module
Suitable for Futaba 4PX, 7PX, 4PV, 3PV etc. S_FHSS system
Specification
Operating Voltage: 3.3V~8.4V
Dimension: 35.5x23.3x13.2mm
Weight: 7.3g
No. Of Channels: 4CH+ SBUS
Antenna: Dual Antenna
Feature
1) Dual-antenna receiving system, built-in and external antenna to keep it concise and improve high receiving sensitivity;
2) Integrated voltage stabilizing circuit, operating voltage can be 1s-2s lipo, it won't be out of control for instantaneous voltage reduction;
3) Full 4CH output + SBUS port, suitable for the remote control cars, Rock Crawlers which required more channels
Bind Procedure
1. Bring the transmitter and the receiver close to each other within 20 inches (half meter).
2. Turn on the transmitter.
3. Turn on the receiver
4. Press and hold the Link switch more than two(2) seconds. When the link is complete, the LED in the
receiver changes to solid green.
It could be failed to bind as the environment, please repeat the above steps.