Close
Cart Total:
Your cart is currently empty..
AGFRC
33KG Low Profile Waterproof Programmable RC Servo (A66BHLW)
AGFRC 458 oz-in Low Profile IP67 Waterproof Programmable Heighten High Torque 0.068sec High Speed Digtal Brushless Servo (A66BHLW)
This A66BHLW Waterproof Digital RC Servo is updated version based on original A65BHL servo, light weight and fast heat dissipation design, upgrade to full stainless steel gears, it will be more reliable to be used for your models. If you are looking for the super spec with high torque and speed in short case, as well as waterproof type, A66BHLW will be the nice option. Available to program via USB programmer for DIY parameter.
Feature
Fast Cooling Heat Sink Case

Extra Strong Steel Gears

High Precision Magnetic Sensor

Long Lifespan Brushless Motor

Dual Ball Bearing




Programmable Digital Circuit




Fully Waterproof Up To IP67




Ideal for 1/10, 1/12 Touring Cars, Racing Cars On Road, Truck & Airplane, 1/10 Scale Surface, Boat, Aircraft Applications
Here is the video for the original servo A65BHL: https://www.youtube.com/watch?v=EFDb9RhedSY&t=1s
20 kg-cm (278 oz-in) @ 4.8V
25 kg-cm (347 oz-in) @ 6.0V
30 kg-cm (417 oz-in) @ 7.4V
33 kg-cm (458 oz-in) @ 8.4V
0.110sec/60° @ 4.8V
0.090sec/60° @ 6.0V
0.080sec/60° @ 7.4V
0.068sec/60° @ 8.4V
Package Included
Item 1:

1 x A66BHLW Low Profile Waterproof Programmable Servo

1 x 25T Black Metal Servo Horn

1 x Accessory Kit



Item 2:

1 x A66BHLW Low Profile Waterproof Programmable Servo

1 x 25T Black Metal Servo Horn

1 x AGF-SPV3 Servo Programmer

1 x Accessory Kit




Note:1. Item 1 does not include the AGF-SPV3 servo programmer.

2. This product price does not include EU VAT.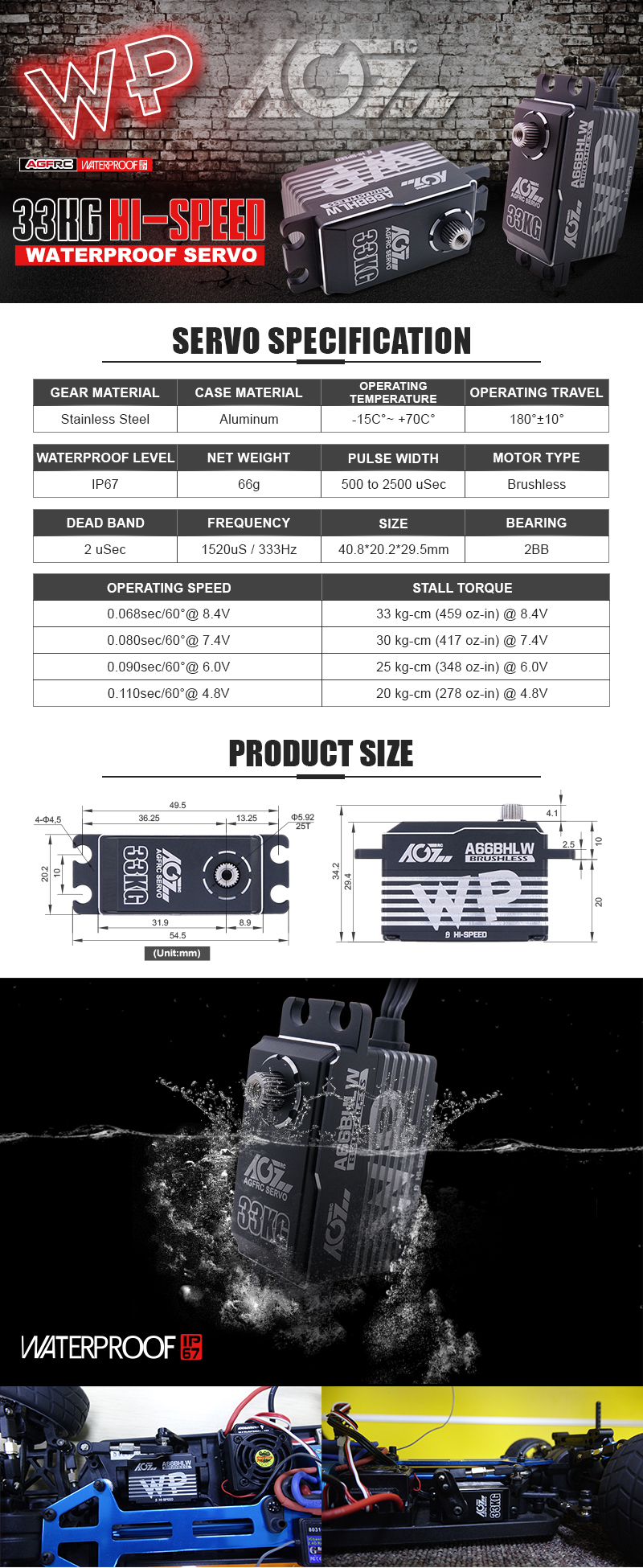 Brand:

AGFRC
Iterm Name:

A66BHLW
Signal Mode:

Digital
Control System:

Pulse Width Modulation Control (PWM)
Refresh Rate:

333Hz
Neutral Position:

1520uS
Dead band:

2 uSec
Operating Voltage:

4.8V ~ 8.4V
Operating Travel:

180°±10°
Signal Range:

500 to 2500 uSec
Angle Sensor:

Magnet Angle Sensor
Temperature:

-15C°~ +70C°
Mechanical Angle:

No Limit
Motor Type:

Brushless
Motor Drive:

FET Drive
Horn Gear Spline:

25T-φ5.92mm
Programmable:

Yes
Bearing:

Double Ball Bearing
Bearing Material:

Metal
Gear Material:

Strength Steel
Case Material:

AL6061T6
Certification:

CE,FCC,RoHs
Wire Guage:

TYU 180mm / 22AWG
Net Weight:

66g(2.33oz)
Product Size:

40.8*20.2*29.5mm(1.61*0.80*1.16in)
By
Robert Shanks
Friday, 01 January 2021
Awesome servo, great power.
By
Malinda
Tuesday, 29 December 2020
servo works great. Works good on 6v, but Struggles a little. The servo can handle 7.4v. Get a bec and put it on 7.4v, it will be much better
By
Rodgers
Thursday, 12 November 2020
This servo works really awesome, quiet, fast, with great torque, very satisfied, highly recommended.
By
Nick Waltons
Tuesday, 03 November 2020
Awesome servo. Pretty pricy but worth it. Fast and responsive as well as strong.
By
Bobby
Wednesday, 21 October 2020
Best upgrade dollar for dollar.
By
David
Saturday, 10 October 2020
Very strong and smooth operation. Probably going to pick up another just to keep oh hand for the next project
Your cart is currently empty.