SA86BVMW 3S Lipo Compatible 60KG Super Torque Patent Gear Programmable Magnetic Waterproof Brushless Heighten Standard Servo
不能存图片
SA86BVMW 3S Lipo Compatible 60KG Super Torque Patent Gear Programmable Magnetic Waterproof Brushless Heighten Standard Servo
Feature:
Simplify- 3S Lipo high voltage application, available to connect with battery directly

Smooth- Three ball bearings to make it more powerful and smoother

Powerful- Extra strong patent steel gears and upgrade structure

Reliable- High quality brushless motor for longer servo life

Waterproof- High accuracy magnetic position sensor, allow to be used in humid or rainy situation

Precision- High precision CNC aluminum machined housing

Programmable- Available to change the firmware for different usage (Note:The programmable card separately purchase).
Application:


12V Series Smart Servo especially designed for higher voltage application, such as R/C Crawler Cars, Airplanes, Boats, Robots or Industrial/Medical applications.
The highlight of this smart servo is available to upgrade the firmware via USB programmer for different usage as required.
Servo SA86BVMW Datasheet:
Refresh Rate 333Hz
Neutral Position 1520uS
Signal Mode Digital
Voltage 10V ~ 13V
Temperature -15C°~ +70C°
Bearing Three Ball Bearings
Mechanical Angle No Limit
SERVO Size 40*20*41.5mm
Net Weight 88.5g
Servo Wire TYU 300mm / 22AWG
Operating Travel 180°±10°
Signal Range 500 to 2500 uSec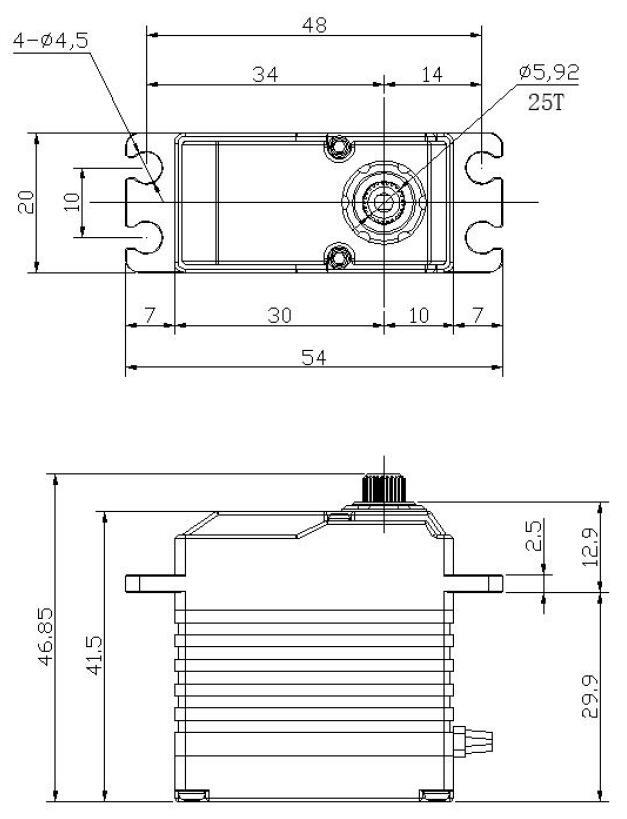 Servo SA86BVMW Stall Torque
48.0 kg-cm (667 oz-in) @ 11.1V
57.0 kg-cm (792 oz-in) @ 12.0V
60.0 kg-cm (834 oz-in) @ 12.6V
Servo SA86BVMW Unload Current
380 mA @ 11.1V
450 mA @ 12.0V
480 mA @ 12.6V
Servo SA86BVMW Operating Speed
0.140 sec/ 60° @ 11.1V
0.125 sec/60° @ 12.0V
0.120 sec/60° @ 12.6V
Servo SA86BVMW Loading Current
4000 mA @ 11.1V
4500 mA @ 12.0V
4800 mA @ 12.6V
Direction CCW
Waterproof Level IP67
Angle Sensor Magnet Angle Sensor
Motor Type Brushless
Motor Drive FET Drive
Programmable Yes
Gear Material Strength Steel
Horn Gear Spline 25T-φ5.92mm
Case Material AL6061T6
Bearing Material Metal
horn Accessories Plastic

Wire Color
Negative: Black
Positive: Black
Signal: Grey